Customized Training

Energy ETC provides an array of comprehensive training programs supported by professional trainers. Our staff is prepared to deliver standard and customized training at our office, your facility, or as cost effective and convenient Webinars.
Web based training sessions will originate from Energy ETC's state of the art training facility in California. Students will be provided an access link and code to remotely access the live training session via their Internet Browser from your location.
Our courses cover the technical issues associated with the architecture, design, installation, configuration, and application development of your Open Multi-Vendor Solution.
Site navigation
Most Visited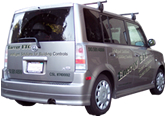 Energy ETC University