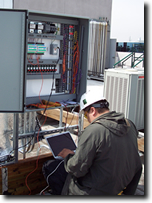 If you need help, we want to be there for you. The best way to guarantee that we're available, when you need us, is to sign up for one of our affordable Service and Support Agreements.
Whether it's a simple question over the phone, or you need an Engineer dispatched to your facility, if you are covered by one of our agreements you will benefit from a prioritized response at a preferred rate based on your level of coverage.
Customers without this type of coverage will still get our famous levels of support, but will have to wait in line for the next available support engineer and pay for the service at our current labor rates.

At Energy ETC we rely on your success to make us successful. That's why we are willing to go the extra mile to make sure you have the Engineering, Training, and Consulting (ETC) you need to succeed. With a Service and Support Agreement you have the peace of mind that we are only a phone call away.

We will work with you to tailor a custom contract that fits your needs.
Of course the longer the term of coverage, the more attractive the rate will be!